by Jesse-Linn Masters
(Chicago, IL)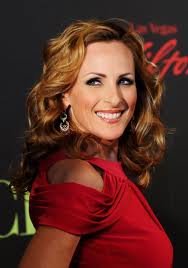 If you haven't seen "What the bleep do we know" stop reading this and go watch it right now. This incredible movie, staring Marlee Matlin may not be "Children of a Lesser God" or any of Matlin's more well known roles, but it was the first I saw her in and to this day one of my favorite films.
I must admit for a long time I had Marlee Matlin and Heather Whitestone confused. I would happily proclaim how much I admired Marlee Matlin, first deaf woman to win Miss America after seeing a speech Whitestone gave to Miss Teen California participants.
Now that I know the difference between the two incredibly beautiful and talented women, I respect them both a lot, but Matlin just resonates with me. She has red hair, like me, is an actress, which is what I aspired to be when I was young. She has inspired me to learn ASL for years. I started learning in elementary school. I continued throughout high school. She inspired me to be able to sign in front of my entire graduating class and their families despite my crippling stage fright.
It is because of her I knew I wanted to be an interpreter right out of high school. Sadly, life and other plans got in the way. Now I am 30 years old and I am re-learning everything I once knew.
I do have Marlee Matlin to thank for reigniting my passion in ASL. Her roles in My Name is Earl and Switched at Birth have recently reminded me to follow my dreams and achieve my goals no matter what obstacles are currently standing in my way.
Comments for Marlee Matlin