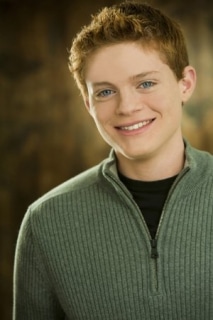 Sean Berdy is a deaf actor, comedian and dancer. He was in Sandlot 2, Legend of the Mountain Man, The Deaf Family, and is best known for his role as Emmett on the hit TV show Switched at Birth.
Sean Berdy Articles by Students
Sean Berdy
by Alex (Buffalo) | May 15, 2014
O.K., O.K., I admit, Sean Berdy isn't exactly a historical figure… By any stretch of the imagination. But in 20 years he will be, and I'm going to count that.
Sean Berdy is a deaf man who plays a deaf character on the show Switched at Birth. He was really the first well known deaf person to make it into popular hearing culture. He has become very supported and is not oral in any way, he relies totally on signing and his interpreter.
I think it's fantastic what he's doing, he tours the country giving motivational speeches and even speaks at graduations. I think he is really bringing deaf-ness to the main stage, so to speak. He doesn't bend to fit cultural norms, he does what he wants and seems to love the fact that he is deaf. I have a great amount of respect for him and I hope he continues doing whatever it is that's working for him. He continues to act, and doesn't try to say he's not deaf, he actually stresses the good points of being deaf, and isn't afraid to talk about deaf culture. I hope more people like Sean Berdy come into the spotlight in the near future.
Comment by Laura F.:
Sean CAN speak. He relies on his interpreter in public and in interviews because he says it makes things run much more smoothly. Sean grew up oral. And he is actually quite a chatterbox when off camera. The stereotype you are portraying by saying he relies completely on his interpreter is bogus. And is a common myth that "deaf people can't speak" which makes me question how much you actually know about the topic.
– I just finished a project on Sean Berdy, you should look up interviews with him. And pay attention to what he says, as HE HIMSELF makes the comment that he is quite the chatterbox off stage.
Comment by Anonymous:
"He was really the first well known deaf person to make it into popular hearing culture." I'm pretty sure Marlee Matlin (who plays his Mother on the show) was really the first well known deaf person to make it into popular hearing culture. She has been around in movies and TV for over 30 years now. "Her discovery by Henry Winkler during one of her ICODA theater performances ultimately led to her film debut in Children of a Lesser God (1986).[citation needed] That film brought her a Golden Globe Award for Best Actress in a Drama and an Academy Award for Best Actress." This is, just the beginning of her career. Check her Wiki for the long and incomplete list of things she's done since this movie. While I don't dispute Sean's appeal to today's teens and the fact that this show has created a resurgence in Deaf Awareness, I'm not sure your statement is entirely correct. I didn't even know of him until this show. Maybe I missed your reference in that you relate to today's teens on TV where I'm of an older generation and remember Marlee when she was starting out. In either case, I'm glad both are still active in tv/films and keeping the hearing populous aware of the alternatives.
To Choose
by Anonymous | March 23, 2016
When it comes to Deaf Culture and its people, how do you pick a favorite. The accomplishments that these people have made have not only changed the community but helped it grow. I could have easily picked America's inspiration Alice Cogswell. At the age of 9 she met Thomas Hopkins Gallaudet. Alice showed promise in her education, Gallaudet along with Laurent Clerc established the first American deaf school where she was the first to be enrolled. This was an amazing step for deaf culture in America. I'm always inspired though by strong women. With that in mind I think of Laura Bridgman, who was not credited but now noted as the first Deaf-Blind person to learn a language. Bridgman was the first to learn manual sign and alphabet. Her lessons and education was later passed on as teaching methods for Helen Keller. One example is the manual alphabet that Anne Sullivan (Helen's teacher) learned from Bridgman herself. With this little bit alone its easy to see why choosing one is so hard, and there are so many more out there. But I had to go with someone who story is still in the making.
Sean Berdy was named Mr. Deaf Teen America, is on the hit show Switched at Birth, and is developing his own one man show. This young man already inspiring people that doing what you love is everything. Born Deaf into a deaf family, it was made clear he was born to perform. Starting first performing as a kid for family, later on Berdy will get his big break with the sandlot 2. Following this is a handful of roles in various movies, as well as the hit show Switched at Birth. Berdy also has his own one man show "The Sean Berdy Show". With his show and being named Mr. Deaf Teen America, Berdy has made appearances across the country. But career isn't what makes him a favorite. It's the fact that this is someone present day, influencing others. Examples of this being him speaking at the Gallaudet University this past October. Also with the growth of social media its not hard to caught Berdy and his dog Cabo, just showing that Berdy is no different from any other 20 something out there. I have a strong feeling that though he's done a lot in his life so far, there's much more he gonna accomplish.