by Michael S.
(New York)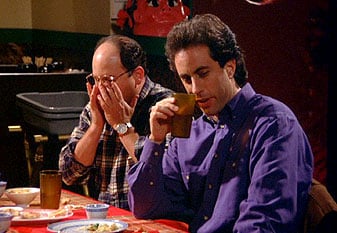 Jerry and George attempting to hide their lips from Laura (Matlin)
Reading about all the famous Deaf people, I found that I was unaware of most of the more influential in Deaf History. However, immediately Marlee Matlin came to my mind. It was not from her award winning performance in "Children of a Lesser God," but from a guest role in Seinfeld that brought her to mind. Like a spark, it was the first famous Deaf person I could even think of.
It is her great acting that makes her my favorite. In my youth, I was unaware that she was Deaf in real life. I had thought she was not Deaf and was acting the entire time. When I learned that she was in fact Deaf, it made me like her all the more. The episode "The Lip Reader" earned her a Primetime Emmy Award for her guest appearance. Participation in such a role really shows that Matlin has a great sense of humor, something that I find extremely important in a person. Without laughter, life is meaningless.
I owe it to Seinfeld for my discovering of Matlin and her great thespian talents. I also owe it to Seinfeld for using a Deaf character for an overall comedic use in the episode that makes it funny for everyone. Often times in the show, they cleverly show the best attributes of everyone and how anything can be funny when it is delivered in a non-facetious manner. Marlee Matlin really aced her performance. A great role, from a very talented actress, on one of my favorite programs, wins Matlin my recognition as my favorite person in Deaf History.