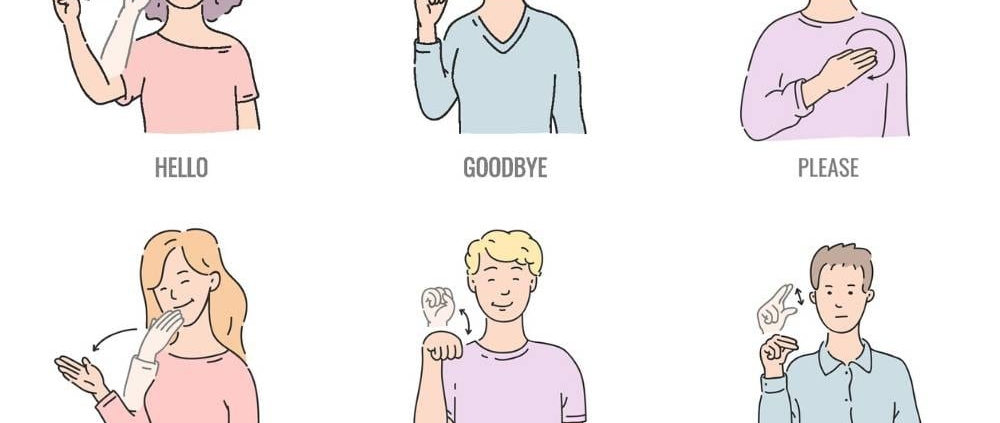 Top 10 & 25 American Sign Language Signs for Beginners – The Most Know Top 10 & 25 ASL Signs to Learn First
Have you been wanting or thinking about learning a new language? You've come to right place! American Sign Language (ASL) is a beautiful visual language to learn and it is a form of communication that bridges the gap between the Deaf and hearing communities. There are many questions such as if ASL is hard to learn, if it can self taught, if it is worth learning, yada yada. Well, I am here to answer all your questions you have regarding to learning ASL, which you will find under FAQ at the bottom of this page. First, it is important to keep in mind when learning ASL. It is important to know that ASL is not just a language, it is a language that has its own grammar and sentence structure, slangs and phrases, as well as culture and history. If you're curious where ASL derived from, read more here. Roll up your sleeves and get started by learning the basics of American Sign Language. The video below you will watch are top ten signs to get you started and to boost your confidence with learning American Sign Language. You don't have to stop here, there are so much more to learn than these ten signs. If you're still intrigued to continue learning, you can sign up with us at https://www.startasl.com/my-courses/.
Tip:  If the video seems fast, there is a list of videos for each sign. Once you feel comfortable, come back to the video to review what you've learned.
TOP TEN SIGNS
Now that you've watched the Top 10 signs video, was that fun? How did you do? Did you know some of these signs already? Are you ready to advance to learning more signs? Here is a more challenging version:
TOP 25 SIGNS
Here are a couple tips to keep in mind when learning American Sign Language. First of all, ASL has 5 parameters and they are: handshape, palm orientation, location, movement, and non-manual markers/signals.
Handshape: This refers to the hand configuration which is used in the beginning of any word production in ASL. There are common handshapes such as 1 and D, 2 and V, 9 and F that are usually misinterpreted; therefore people will use the context to help them better interpret the sign that has the same handshape. Here are three examples of handshapes: "c" as in class, open "a" as in behind, bent "v" as in squirrel.
Palm Orientation: This refers to the direction in which the hand is turned to produce a sign. Palm orientation includes palm up, palm down, palm right, palm left, palm outward (away from you), palm inward (palm facing you). Here some examples of signs with different palm orientation: school, clean, paper.
Location: This refers to the location of where the signs are produced. The general physical parameters (signing space) for sign language production are approximately four inches above the head, elbow room as with hands on the waist, and about four inches below the belly button or belt buckle. The 3 example signs of location that changes meaning are summer, ugly, and dry. There are signs that remain the same location but have different handshapes such as restaurant and single.
Movement: This refers to changing of the location of the hands when signing. For example, when signing give, you can sign give away from you towards the person you are signing with. This indicates that I am giving you something. On the other hand, if I am signing give away from you towards me, then that indicates you are giving me something. Movement can also refer to the frequency of an action. For example, again, if signed repeatedly multiple times, then this means "over and over".
Non-Manual Markers/Signals (NMM or NMS): These are signals or gestures done without the use of hands. The signals or gestures is demonstrated mostly from the shoulders, head, and face to relay a message. Specific NMM or NMS alter the meaning of a sign. Facial expressions or body language such as head nods, shakes, eyebrows, nose, eyes, and lips fall under this category and carry a meaning that are attached to a sign.
The second tip to when learning ASL is that some handshapes movement can come off the wrong way or convey a different meaning, so be careful and learn the correct way to sign a word. This is usually common for beginner signers and that is okay, but it is good to keep in mind!
FAQs
https://www.startasl.com/wp-content/uploads/asl-signs-new-1.jpeg
700
1000
Katelyn Cheng
https://www.startasl.com/wp-content/uploads/StartASLlogoFinal-1.png
Katelyn Cheng
2021-09-27 12:57:40
2021-09-29 09:03:33
Top 10 & 25 American Sign Language Signs for Beginners – The Most Know Top 10 & 25 ASL Signs to Learn First