Troy Kotsur Appears on Sesame Street Teaching American Sign Language
Academy Award-winning Deaf actor Troy Kotsur recently appeared in an episode of the timeless PBS children's show 'Sesame Street" teaching American Sign Language. Mr. Kotsur was on set to teach two of the Muppets and the show's global audience the regularly featured "Word of the Day" in American Sign Language (ASL). It was a special edition of the segment, for which the show is famous. The 53-year-old star of the 2021 film CODA explained to Sesame Street characters Rosita and the Count that he's Deaf and uses ASL to communicate with other people.
Then when the Muppets said they didn't know any sign language, Kotsur replied that he'd be happy to teach them some ASL with the help of a friend. He next introduced the pair to his interpreter Xavier, who would sign to him so he could understand what the Count and Rosita were saying. In this way they could "all communicate together." And Rosita responded, "There are so many ways we can communicate."
What is American Sign Language (ASL)?
This well-recognized form of sign language is used by Deaf people across North America and in other parts of the world as well, such as in Canada. The use of sign language to communicate is called signing.
ASL has as many as 500,000 Deaf users worldwide, and the manner and tempo with which a person signs their words can vary from region to region in the countries where it's used. This is similar to the way people from various parts of the world who speak the same language have different accents.
ASL uses both manual or hand-based gestures as well as movements with other parts of the body to convey messages. The same hand sign can have varying meanings depending on where the sign is formed or whether a certain area of the body is touched as the sign is being made. Facial expressions and arm or shoulder movements are also important in this process.
Sesame Street Teaches American Sign Language to Bridge Gaps
A long-running favorite of both young and adult viewers, Sesame Street bridges various cultural and educational gaps in our society through entertaining programming and a dynamic cast of characters. The show's format features live-action, animation, sketch comedy, and puppetry. The main character Big Bird leads a diverse group of individuals who teach children numbers, colors, and the letters of the alphabet. Bert and Ernie, Grover, and Oscar the Grouch are among the other creatures who occupy Sesame Street, a place that's alive with chances for children to learn and grow.
Troy Kotsur Is The Second Deaf Person In History To Win An Oscar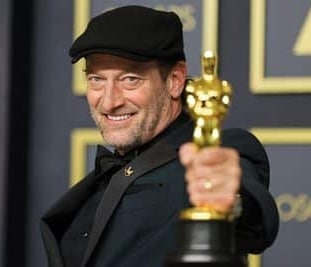 Troy Kotsur is a Deaf US theatre, movie, and TV actor. In March of 2022 he made history by receiving an Academy Award for Best Supporting Actor and earning a number of other awards for his role in the 2022 Best Picture-winning film CODA. With his win, he also became just the second Deaf person in history to ever win an Oscar, the first being his costar in CODA Marlee Matlin. She won Best Actress in a Leading Role for her work in 1987's Children of a Lesser God.
The Sign Of The Day is 'Diversity' on Sesame Street
When Rosita said, "There are so many ways we can communicate," Troy Kotsur replied, "You know, today's word of the day is all about that. The word of the day is 'diversity'." He then signed "diversity" with his hands and asked the Count and Rosita to do the same. When Rosita next asked about the meaning of the word diversity, the actor explained that it means understanding and appreciating the differences in how people look, where they're from, and how they communicate with others.
When answering Rosita's next question about what makes Kotsur who he is, the actor revealed that his family is from the Czech Republic, that he's an actor by trade, and that he's Deaf.
When Rosita and the Count expressed amazement at how different the three were, Kotsur observed, "But one thing that we all have in common is that we are all friends." Then he asked the Muppets to sign the word "friends" with him.
The Importance of Troy Kotsur's Appearance on the Show &

Teaching ASL

for the Deaf Community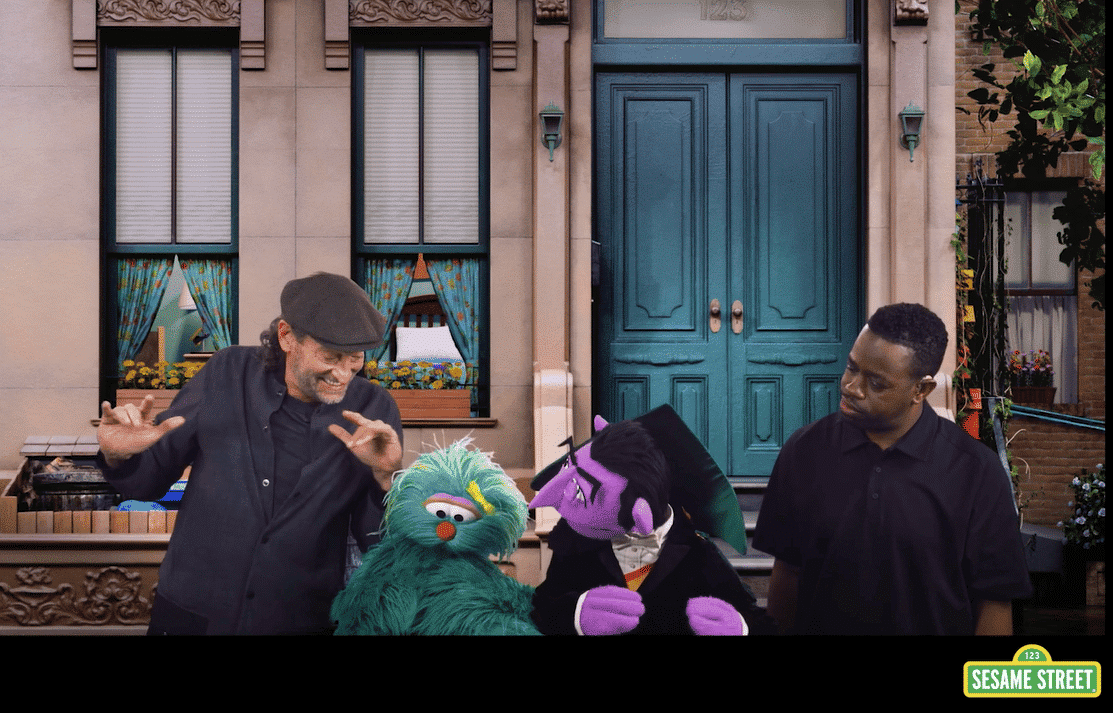 One thing that's significant about Troy Kotsur's guest role on Sesame Street is that it merges three different languages — American Sign Language, English, and Spanish — and repeats several words. This feature of the signing segment enhances viewers' ability to sign these terms and shows the diverse nature of sign language use.
Also, with an estimated 1.5 billion people around the world (nearly 20% of the population) having some degree of hearing loss, a significant fraction of our society is going largely unrepresented in the mainstream media. The Deaf community is incredibly diverse. There isn't just one "deafness." All Deaf individuals are unique, and the scope of their experiences and personalities varies greatly. For this reason, seeing these diverse identities recognized and portrayed in the media isn't just about representation but about self-identity as well.
Seeing a Deaf actor doing American Sign Language on Sesame Street, which has a worldwide viewership, can help to fill the void in Deaf representation in the media.
With ASL being the preferred language of more than 500,000 Deaf people in the United States, subtitles aren't sufficient to meet their needs. There's a real need to produce easily accessible media for this diverse linguistic population in the language they use daily: ASL. The value of providing user-friendly media for the Deaf has never been more apparent than it is today.
Lack of Representation Affects both the Deaf and Hearing Communities
The scarcity of Deaf representation in today's electronic media has an impact on the broader non-deaf community as well. Watching TV and movies is how human beings begin to make sense of the world and learn how to find their way through it. The impact of these communication channels is without equal. They're the most powerful teaching tools in our society for people to learn about the significance of diversity and inclusivity from a young age. And with its global reach and great appeal to people of all ages, Sesame Street is a key part of this process.
For this reason, having Oscar-winning Deaf actor Troy Kotsur use American Sign Language to communicate with characters on the show and viewers around the globe can be seen as a major milestone. It represents a creative effort to make Deaf culture and signing a natural part of people's everyday experience.
Small Strides toward Improved Awareness and Inclusivity
Recent decades have seen an increase in Deaf representation in the media. For example, the 1987 film Children of a Lesser God starred Deaf actor Marlee Matlin, who, as mentioned above, took home an Oscar for her work in the film. The main ideas behind Children of a Lesser God are  that the Deaf are human beings just like everyone else, and that they have the same feelings as hearing people.
Besides increases in movie and TV roles for Deaf actors like Troy Kotsur and Marlee Matlin, Deaf writers are now working alongside production teams, attempting to portray Deaf characters that genuinely reflect deaf identity. In the UK, the Writers Access Group, run by the British Broadcasting Corporation, has a writing program for writers with disabilities. Through this scheme partially Deaf screenwriter Charlie Swinbourne wrote the first signing Deaf character for the popular British soap opera EastEnders.
Such small changes in the global media are powerful because they get people talking. Hearing people become more aware of the Deaf, are more exposed to Deaf communities, and begin to understand some of the accessibility issues that Deaf people experience every day. In addition, inclusivity is more much engaging than simply enhancing public awareness. New stories about Deaf people can be told and old stories can be told in new ways.