Perhaps the most important part of learning ASL
Deaf Culture was first truly recognized in 1965 (only about 40 years ago!)
The idea that Deaf people had a culture of their own was first written in the Dictionary of American Sign Language by William Stokoe, Carl Croneberg, and Dorothy Casterline.
This was a huge step for Deaf people. Before this book was written, the medical industry and those involved in Deaf education only saw Deaf people in terms of their hearing loss. The thought of Deaf people being a part of their own culture was unheard of at that time.
Nonetheless, Deaf culture is exactly what Carol Padden defines as a culture: a set of learned behaviors of a group of people that share a language, values, rules for behavior, and traditions.
We only share general information about Deaf Culture on this page and in our many Deaf articles, so we highly recommend Don't Just "Sign"… Communicate!: A Student's Guide to ASL and the Deaf Community if you are learning ASL. The guide includes all of the essential Deaf Culture information you need to know so you will better understand the Deaf community and be fully prepared to talk to Deaf people.
There are many famous deaf people who introduced the world to Deaf Culture and proved that deaf people can, in fact, make history.
Language
Language and culture go hand-in-hand (no pun intended!) Without language, it's impossible to learn the culture. Without culture, language has nothing to refer to.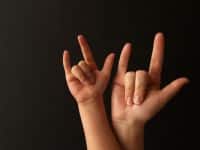 The members of Deaf culture do share a language… American Sign Language, of course!
It was not until the Dictionary of American Sign Language was published that ASL was regarded as a real language. William Stokoe was the first to break ASL down into its linguistic components and prove that it truly is a language… not merely "English on the hands" or "pictures in the air" like people thought.
American Sign Language is a living, breathing linguistic masterpiece that is specially made for the Deaf.
Values
The culture of the Deaf consists of a few important values:
Language
American Sign Language is the most highly regarded asset of Deaf Culture. Spoken English is almost completely useless to the Deaf. Even if they can learn to read lips, the comprehension of English doesn't even come close to the language of ASL. If the ears don't work, why would you force them to?
ASL is the natural language for the Deaf. To equate the fluency of English to hearing people, ASL is the match for Deaf people. They are not meant to use a language that is not their own, nonetheless be forced to.
The Deaf also aim to preserve ASL. There are many language systems that have been invented to try to "help" deaf children learn English (Sign Supported Speech, Signed English, and Cued Speech, to name a few). These are not languages and are not supported in Deaf culture. They have, if anything, deprived deaf children of their true language and ability to communicate effectively.
ASL is so important for Deaf people to communicate, they created vlogs (video logs). They are similar to blogs, but consist of videos. That way, the Deaf can communicate with each other in their first language.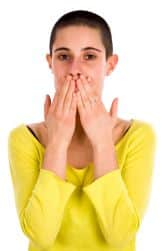 Not speaking is highly valued in this culture. Speech is commonly forced on deaf children and represents confinement and deprivation to the Deaf adult. When speech education is forced, deaf children are deprived of one of their core needs… language. The only language that is truly possible and effective is ASL.
When a hearing friend of a Deaf person turns and continues conversation as usual with another hearing friend, the Deaf person is left out. This is incredibly rude when the person could have signed or kept the Deaf friend included on what was being said (interpreting).
Exaggerated mouth movements can be seen as rude. There are only a limited number of mouth movements that are used while signing. Much-more-than-necessary mouthing can be seen as making fun of the Deaf (and you don't want that!)
Socializing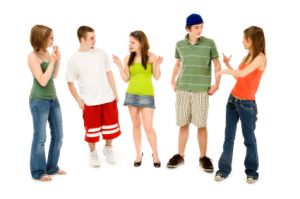 Socializing is a very important value of Deaf culture. Because there are so few Deaf people in an area, social lives are invaluable. In a society where the Deaf are commonly misunderstood, the support of others is more than necessary. Deaf dating sites have become very popular for this reason.
Back before text messaging and modern technology, Deaf people would only communicate with each other in person or in letters. They would take advantage of the little time they had to mingle with another Deaf person…
Nothing much has changed since then!
Deaf people will stay at a gathering very late to get in as much time as possible with their friends. When a hearing gathering generally ends around 10 at night, a Deaf gathering can end at 3 in the morning!
There are many Deaf events available to everyone (deaf and hearing!) who wants to socialize with the Deaf. Visit our Deaf Events page to find events in your area.
The Deaf Olympics (Deaflympics) have also been competing since 1924.
Literature
Much like the American culture, Deaf cultural values are not openly written or explained.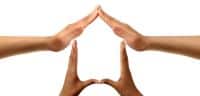 Deaf children learn how to fit in with Deaf culture from positive and negative feedback about behaviors and from the stories and literature that are passed down through the generations.
There is a wealth of Deaf art, poetry, stories, theatre, media, games, deaf jokes, and books that teach the culture (most of which are not written down!) These avenues always demonstrate and support the way Deaf people live their lives: being Deaf and proud!
One fantastic artistic informational piece about Deaf culture is the film Through Deaf Eyes, narrated by Emmy award-winning actress Stockard Channing. If you have not seen this movie, you need to.
There are many famous Deaf stars who have brought the Deaf Community and ASL into people's homes. Linda Bove played Linda the Librarian on Sesame Street, Marlee Matlin won an Academy Award for her debut performance in Children of a Lesser God, Deanne Bray played Sue Thomas on Sue Thomas: F.B.Eye, and Shoshannah Stern is the only deaf actor to ever have a role on two prime-time TV shows at the same time, to name a few.
And let's not forget Switched at Birth–a popular television show featured on ABC Family that has truly brought American Sign Language and Deaf Culture into the living rooms of today's generation. It is the first television show to feature several deaf actors/characters and entire scenes shot using only ASL.
ASL not only shares its expressiveness with stories and poetry, it also greatly enhances music. ASL is popularly used in the interpretation of songs. Songs interpreted into ASL aren't used very often in the Deaf community–they are more popular with the hearing and hard-of-hearing ASL crowd–but it is still a common and beautiful Deaf culture art form. You can see some of the best ASL song interpretations on our Best Songs in Sign Language page. You can also learn how to sign songs on our Interpreting Songs for the Deaf page.
Rules for Behavior
Deaf people are not only part of a like-minded group. They are part of a culture that has a set of learned behaviors that you need to know to be able to "fit in."
Eyes
In hearing culture, it is rude to stare. However, in Deaf culture, staring is necessary. If you break eye contact while a person is signing to you, you are incredibly rude! That's like plugging your ears when someone is speaking to you!
Facial Expression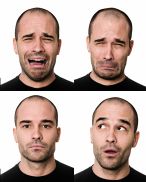 In hearing culture, facial expression is very limited. If you move your face or body a lot while you are talking, you can be seen as "weird" (and nobody wants to be weird!)
However, in Deaf culture, facial expression and body movement is required for ASL. It's part of ASL grammar!
Introductions
In hearing culture, you normally introduce yourself by your first name only.
Deaf people, however, introduce themselves by their full names, and sometimes even what city they're from or what school they went to. By city, this means the city you grew up in, not what city you are currently residing in. And by school, this means a residential school you attended. The Deaf community is very small, and Deaf people like to find those specific commonalities with each other.
What Deaf people call themselves is something that also needs to be taken into consideration.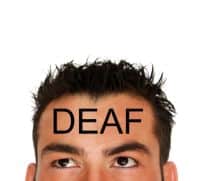 In hearing culture, the terms used to describe deaf people have to do with their hearing loss. The term "hard of hearing" is better than "deaf" in hearing culture. Hard of Hearing people are generally regarded as being easier to communicate with and fit in better with hearing people. Deaf people, on the other hand, are seen as being difficult to communicate with and that they may not even speak. The term "hearing-impaired" has been used to be "politically correct" to identify them both, but the more accepted term now to refer to everyone with a hearing loss is the "deaf and hard of hearing" community.
In Deaf culture, though, the terms are quite the opposite. There is one label for people who are part of Deaf culture, and that is "Deaf" with a capital D.
This label has nothing to do with hearing loss. Regardless of how much better your hearing is than the next guy, you're still all "deaf." Using the term "hard of hearing" can be seen very negatively… like you're saying you're better than everyone else (because that's the one-up in hearing culture).
You will also see both the terms "deaf" and "Deaf" used. They are referred to as "little d" and "big D." "Little d" deaf refers to people who have lost their hearing. "Big D" Deaf refers to people who are involved in Deaf culture and share the values, behaviors, and language of that culture. Just because you are deaf, doesn't mean you are Deaf. And in some cases, just because you are Deaf doesn't mean you are deaf (as is the case for some hearing children of Deaf parents known as CODAs or "Children of Deaf Adults").
The term "hearing-impaired" is seen even more negatively because that says there is something wrong with being Deaf (which is the complete opposite of what Deaf people believe!) Most hearing people believe that deafness is a handicap. But, au contraire! It indeed, is not. Deaf people can do everything except hear. Everything! In Deaf culture, deafness is not considered a handicap. The only real handicap of deafness is when deaf children are deprived of true communication–ASL.
You can read more tips and sights about interacting with the Deaf community on our Deaf Culture Do's and Don'ts page.
The Best Deaf Culture Books
Please note that when you choose to purchase through the external links on this website (in many but not all cases) we will receive a referral commission. However, this commission does not influence the information we provide in this site. We always give honest opinions and reviews to share our findings, beliefs, and/or experiences. You can view our full disclosure on this page.
Have Experience with Deaf Culture? Help Others!
Do you have any Deaf Culture do's and don'ts you can add to this page? Please do! This will help other visitors avoid embarrassment and learn the correct rules for behavior!
Share your knowledge in the comments below.
https://www.startasl.com/wp-content/uploads/StartASL_logo_white-1-300x64.png
0
0
Michelle Jay
https://www.startasl.com/wp-content/uploads/StartASL_logo_white-1-300x64.png
Michelle Jay
2019-12-28 00:00:00
2020-01-11 13:06:37
Deaf Culture Essentials