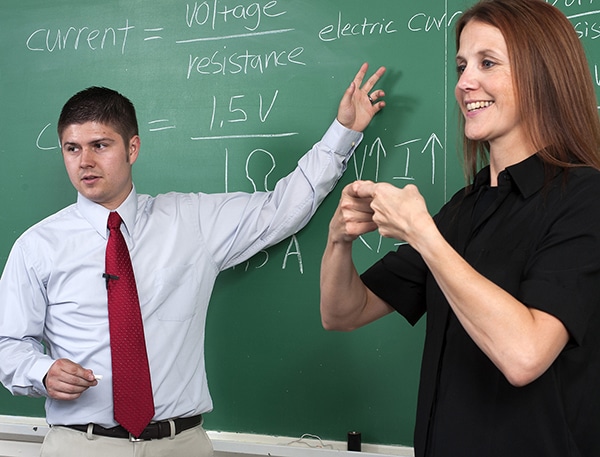 [av_video src='https://www.youtube.com/watch?v=h9F07N_Kozo' mobile_image=" attachment=" attachment_size=" format='16-9′ width='16' height='9′ conditional_play=" id=" custom_class=" template_class=" element_template=" one_element_template=" av_uid='av-66goobd' sc_version='1.0′]
There are different types of interpreters. In the article, "Certified Deaf Interpreter Interprets at Coachella Festival" I talked about ASL interpreters for concerts and festivals; however, in this particular article, I emphasized on CDI. CDI stands for Certified Deaf Interpreter. You are probably wondering how can a Deaf person interpret if he or she cannot hear. Well, a Deaf interpreter is beneficial to the Deaf community because a Deaf interpreter is Deaf or hard of hearing who has an extensive knowledge and experience with the Deaf community, and can provide cultural and linguistic expertise. Educational interpreters are either CDI or hearing ASL interpreters. There different type of modalities of sign languages. It is up to the student's preference on what type of interpreters they prefer. Some students grew up Deaf and their primary sign language is ASL. They might not comprehend English as well so a CDI will be a better interpreter for these students. The difference between a CDI and hearing ASL interpreter is that firstly, CDI is Deaf or hard of hearing and has a deep-rooted understanding of Deaf culture. Secondly, in a situation when CDI is present, the CDI works as a part of team with a hearing ASL interpreter. The ASL interpreter interprets to ASL and the CDI then interprets the ASL message into a visual communique that is customized to suit the specific needs of the deaf person. For example, Mandy Slater, an ASL interpreter, shares an example in her interview of when the Deaf person went to the doctor's. The doctor told the Deaf patient, "Do not eat red meat." The hearing ASL interpreter translates exactly what the doctor said, "Do not eat red meat." Then the interpreter interprets to the doctor what the Deaf patient said, "My cholesterol is high. Why is that?" The doctor asked, which was translated verbatim, "Do you still eat red meat?" The Deaf person responds, "When I cook it, it is not red, it is brown." That is an example when there was a language conflict between the doctor and the Deaf patient because the Deaf patient took it literal that "red meat" meant the color of the meat not "red meat" meant steak or hamburger. However, when a CDI was put in the situation and the CDI explained that "red meat" meant steak or hamburger and the Deaf patient immediately understood.
Some Deaf students have good English and a hearing interpreter would be totally fine for these students. They understand phrases such as "red meat" etc. Then there are students who grew up oral and speaks spoken English. Since the grammar and sentence structure between ASL and English is not the same, it can be difficult for a deaf person who grew up oral to be able to understand ASL; therefore then interpreter would sign Signed Exact English (SEE) or Pidgin Sign Language (PSE) based on the student's preference. SEE, Signed Exact English, is not a true language. Typically, the sentences are signed word-for-word and each sign uses the first letter of the word. PSE, Pidgin Signed English, is a combination of ASL and English. This means that the signs are ASL using English sentence structure and grammar. This form of sign language is most commonly used by hearing or deaf people who did not learn ASL until later in life. Then there's Cued Speech. Cueing is not based on spelling. It shows pronunciation and it can be used to correct one's pronunciation. It is a visual way to see sounds. They are words that the mouth look exactly the same. For example, M vs B vs P so cued speech has his own signal that differentiates between M vs B vs P. Here is an example video you can check out. That is just one example that are many other examples. There are many hand shapes that represent different sound. Cued speech is not just used to teach English. This modality can be used to teach other spoken foreign languages. There is a cued speech transliterator which means someone who uses cued speech to help the student understand the teacher better. When the transliterator uses cued speech with the student, he or she is making the words clearer to understand. The transliterator communicates with the student using cued speech without sounds and the student can respond back using cued speech.
Students have different ways of communication and understanding. Agencies find an interpreter that accommodates the students best. If the student is not satisfied with an interpreter they are given either because that interpreter's style does not match the student's style or the interpreter is not expressive enough or the interpreter is missing out a lot of information, etc., the students can request another interpreter. However, it can go the other way. Interpreters can request another interpreter to replace him or her. Mandy explains this in her interview:
"Interpreters have the right to request for a team for support or replace with another interpreter. If I can't provide service for you, then you definitely deserve a better interpreter than me. Someone with a different skill or preferred to not have a white woman as an interpreter who is unable to match the person's needs. They'll just replace the interpreter. It can be hard to find an interpreter that is a good match for the D/deaf person. If I go to interpret, but we don't understand each other, then I would inform the school or agency or my boss that we are not a good match for each other. The student can request a new interpreter that better matches their communication needs (more visual signing). To work with educational system to provide the right interpreter for the student."
Mandy also talks about the interpreter should meet the person 15 minutes before. It is good to meet the student and teacher before class starts so as the interpreter can understand the student's style of signing and comprehension as well as the teacher's talking and fluency. It is good to break the ice and get familiar with the classroom as well as students in the class.
"It's important to understand each D/deaf person's way of communication. You should always meet the D/deaf person 15 minutes before the appointment or meeting starts. Interact with them and get familiar with their style. You prefer English, no problem. You prefer ASL, no problem. Make sure to match each D/deaf person's preference of communication."
Interpreters do not always get a syllabus or notes ahead of time and often will need interpret right on the spot. If the interpreters know in advance they will be interpreting for a student in this so and so class, then he or she can get familiar with the subject and technical vocabulary words so it makes interpreting much easier. However, most interpreters are called on the spot and do not have a lot of time to prepare, so as an interpreter, he or she has to be able to adapt to the situation quickly. If there is a PowerPoint, then the interpreter will sometimes refer to the slideshow projected. Mandy gives an example, "If he or she speaks English and needs the interpreter to spell out the words. He or she can also look at the PowerPoint. To have a team is always beneficial. In more formal high risk jobs (such as a lecture) a PowerPoint can be emailed. Also, if I know the topic, I can study and take notes as a way to prepare. They don't usually give me anything to prepare. That is why it is always important to arrive early. The [student or teacher] will explain very briefly." For Mandy, she likes to use her environment such as the PowerPoint to help support her interpreting. 
Mandy goes in depth about the education requirements to becoming a certified ASL interpreter. You can watch Mandy's full interpreting interview below.
[av_video src='https://youtu.be/wXNEb1yC07c' mobile_image=" attachment=" attachment_size=" format='16-9′ width='16' height='9′ conditional_play=" id=" custom_class=" template_class=" element_template=" one_element_template=" av_uid='av-6v4dza1′ sc_version='1.0′]