No Hearing People Here!
Deaf people have been more in the spotlight than you know.
There are so many famous deaf people and famous hard of hearing people who have been the founders of many organizations, been pioneers in deaf education, written books, painted famous artworks, held world records in sports, acted on several well-known television shows and movies, and even started newspapers. You can learn about over 200 of these amazing individuals below:
Famous Deaf People in Education
Alice Cogswell – Alice was the young deaf girl who inspired Thomas Hopkins Gallaudet to devote his life to educating the deaf.
Laurent Clerc – Met Gallaudet in Europe and returned with him to the United States and together, started the first school for the deaf in the US.
I. King Jordan – After the Deaf President Now (DPN) protest, he became the first deaf president of Gallaudet University.
Andrew Foster – The first deaf African-American to graduate from Gallaudet. He also was the founder of many schools for the deaf in Africa.
Dr. Gerard Buckley – President of National Technical Institute for the Deaf, NTID. First alumni to be president of NTID.
Robert F. Panara – The first faculty member at RIT's National Technical Institute for the Deaf, a beloved teacher, founding member of the national Theatre of the Deaf, and honored by the World Federation of the Deaf for his contributions to education and culture.
Rachel C. Mazique – A deaf teacher of English Writing and Miss Deaf America Ambassador.
T. Alan Hurwitz – The tenth president of Gallaudet University who also served as President of the National Technical Institute for the Deaf (NTID) and as Vice President and Dean of the Rochester Institute of Technology (RIT).
Rocky Miller – Deaf teacher at Century High School and Mayo High School.
Gerilee Gustason – Co-developer of SEE, deaf from young age (5) due to menengitis, taught at Gaulladet, has PhD in teaching, and adopted a deaf daughter.
Marie Jean Philip – Well-known researcher and advocate for American Sign Language and Deaf Culture.
Ella Mae Lentz – Well known Deaf American author, poet, teacher, and advocate. Widely known in the Deaf community for her poetry, she was awarded the Kappa Gamma Poetry Award at Gallaudet University and is part of the Deaf Bilingual Coalition.
Andrew Foster – The first black deaf person to receive a Bachelor's Degree from Gallaudet College and established 31 schools for the deaf in thirteen African countries.
Dr. Jane Fernandes – First born deaf of deaf person to be selected President of a hearing university (Guilford College). She previously served as Provost of the University of North Carolina, Asheville and also held the post of Vice Chancellor of the University of North Carolina system.
Glenn Anderson – The first deaf black man to receive his PhD in the United States.
Dr. Douglas Burke – Founder of The Southwest College for the Deaf in Big Spring Texas.
Ferdinand Berthier – A deaf educator in 19th century France and one of the earliest proponents of Deaf culture.
Famous Deaf People in Movies and Television
Linda Bove – The deaf actress who played "Linda the Librarian" on Sesame Street, as well as many other roles.
Marlee Matlin – The famous deaf actress who won an Academy Award for Best Actress for her debut role in Children of a Lesser God at the age of twenty-one.
Michelle Banks – A famous deaf African-American performer.
Deanne Bray – The star of Sue Thomas: F.B.Eye.
Phyllis Frelich – A very well respected deaf actress who won the Tony Award for Best Actress for her role as Sara in the Broadway version of Children of a Lesser God and acted on shows such as E.R. and Diagnosis Murder as well as Love is Never Silent, the made-for-tv movie.
Amy Ecklund – Played Abigail on the soap opera, Guiding Light.
C.J. Jones – A very intelligent and talented African-American deaf actor and comedian. He has performed in many plays, TV shows, and films.
Howie Seago – Starred in the feature film, Beyond Silence.
Anthony Natale – Most famous for his role in Mr. Holland's Opus.
Shoshannah Stern – Best known for playing Holly Brodeen in Threat Matrix, Bonnie Richmond in Jericho, and Megan Graves on Weeds.
Christy Smith – Was the deaf contestant on a season of Survivor.
Terrylene – Played Laura Williams on the TV program, Beauty and the Beast.
Rush Limbaugh – A talk show host who experienced sudden deafness.
David K Shelton – Movie actor, comedian, and owner of Deaf Funny Videos website.
Lou Ferrigno – Played the "Hulk" in the original series.
Halle Berry – 2001 Best Actress Academy Award winner claims that she has 80% hearing loss in one ear due to domestic abuse.
Kelly Monaco – Actress who plays "Sam" on daytime soap General Hospital once stated that she has some hearing loss due to an accident while portraying a lifeguard on a FOX television program years ago.
Tristan Thunderbolt – Deaf Native American Actor.
Luke Adams – Contestant on The Amazing Race.
Russell Harvard – Well known Youtube star and participated in the hit show CSI.
Herb Larson – Deaf Administrator who also was an actor. Won an Emmy Award for a Television Talk Show, "Off Hand" (co-hosted by Lou Fant through KHJ TV and the Silent Network).
Leslie Nielsen – Starred in many classics… most notably Airplane.
Sean Berdy – A deaf actor, comedian and dancer. He was in Sandlot 2, Legend of the Mountain Man, The Deaf Family, and the hit TV show Switched at Birth.
Robert Hoskin – A well-known deaf filmmaker.
Troy Kotsur – Deaf American actor.
Tommy Korn – A well known Deaf fashion model and actor and the first ever Mr. Deaf California '09-'11.
Jane Lynch – Famous actress known for her starring role on the hit TV series "Glee". She is deaf in one ear.
Michael Barreca – Deaf actor who played Dummy Hoy in Signs of Time (Documentary 2008).
Rob Lowe – American actor, completely deaf in right ear.
Mark Wood – Deaf Executive Producer/Director/Writer of ASL Films (https://www.aslfilms.com).
Robert DeMayo – Deaf actor, educator, ASL consultant, and one of the subjects of "See What I'm Saying."
Rhondee Beriault – Deaf actress and dancer. (Quamntum Leap (1991), Alexander Graham Bell: The Sound and the Silence (1992), Reasonable Doubts (1993), I Love You, But (1998)).
Alexander Genievsky – Deaf Russian-born actor, filmmaker, writer, producer, and artist. Founder and President of the non-profit art organization Universal Sign Entertainment (https://universalsignentertainment.wordpress.com).
Katie Leclerc – American actress who has appeared on several television series, including Veronica Mars and Fashion House. In 2011, she received a lead role on the show Switched at Birth, starring as Daphne Vasquez.
Ryan Lane – Deaf actor with a role in the Dummy Hoy documentary and on television shows such as Switched at Birth, Cold Case, and House MD.
Ann Marie "Jade" Bryan – First black Deaf female filmmaker to graduated from Tisch School of the Arts, NYU; first black Deaf filmmaker to produce an indie feature film, If You Could Hear My Own Tune and with a majority of Deaf actors of color; founder of DeafVision Filmworks and Jade Films and Entertainment.
Jonathan Kovacs – Former American deaf child actor who was a regular character on The Family Tree and a semi-regular character during season nine of Little House on the Prairie.
Rydrea Walker – Founded "Walker Pictures" and released his first movie titled "Bob Movie" in 2013 at the age of 17 (https://www.imdb.com/name/nm5929817).
Matthew Watkins – Deaf actor who played the deaf son of a doctor on the popular television series, ER.
Holly Hunter – American actress who starred in The Piano for which she won the Academy Award for Best Actress. She received Oscar nominations for her roles in Thirteen, The Firm, and Broadcast News. She's also received two Emmy's and six Golden Globe nominations. Hunter is profoundly deaf in one ear from a bout with mumps during childhood.
Justin LeBlanc – A contestant on the show Project Runway from Season 12.
Eric Sykes – An English television, film, and radio writer, director, and actor whose career spanned over 50 years.
Dr. Wonder's Workshop – A children's national television show airing since 2007. The cast includes many Deaf people including: David O. Reynolds, Jonathan A. Reynolds, Justin T. Reynolds, Janet Schwall, Tiffany Hoglind, and James Parker. (https://www.drwonder.com)
Larry and Judy Vardon – Reality television stars from ABC's "Extreme Makeover – Home Edition" in 2004.
Gaius Lee DuPree – First Deaf baby actor, at 9 months old, to work in a film. His first movie is The Devil's Night (2014). (https://www.imdb.me/gaiuslee)
Hillary Baack – Deaf actress who recently starred as Eve in Zal Batmanglij's film The East.
Greg Anderson – Deaf actor who played Brian Clemonds (the deaf man hit by a car) on CSI: Sounds of Silence (2001). He appeared on Sesame Street in 2005 and performed in the National Theatre of the Deaf.
Kristin Chenoweth – A famous singer and actress who has appeared in film, television, and musical theater. Her credits include Wicked, You're a Good Man, Charlie Brown, The West Wing, and Pushing Daisies. She suffers from Meniere's disease which can cause varying degrees of hearing loss.
Stephen Colbert – An American comedian, actor, author, and host of the Late Show. He is deaf in his right ear.
Nyle DiMarco – The first deaf contestant on America's Next Top Model.
James Cude – Profoundly deaf award winning film and television editor who received an Emmy nomination for the MTV documentary Got Your 6.
Nanette Fabray – Award winning actress and advocate for the rights of persons with disabilities.
Stephanie Nogueras – Deaf actress, model, and activist who plays Natalie on Switched at Birth and appeared as a guest star on Grimm.
Famous Deaf Musicians
Paul Stanley – Singer in the rock band KISS was born deaf in one ear.
Evelyn Glennie – A world famous deaf percussionist.
Sean Forbes – Deaf rapper, founder of D-PAN (Deaf Professional Arts Network).
Marko Vuoriheimo "Signmark" – Deaf rapper from Finland and the first deaf person to sign a record deal with an international recording company.
Johnnie Ray (John Alvin Ray) – American singer, pianist, and songwriter who was deaf in one ear due to a childhood accident. He was very popular for most of the 1950s and is known to have played a major part in what would become rock and roll.
Darius McCall – Also known as "Prinz-D", Darius is a deaf rapper from Alabama. He has two self-made albums and is on the way to completing his third.
Ludwig van Beethoven – Was completely deaf for the last part of his life and yet managed to produce some of the greatest music of all time.
James Lee Taylor III – Deaf Rapper from the South Bronx on NY Daily Newspaper and City Limits Magazine. His story has been told in the book Train Go Sorry.
Ayumi Hamasaki – Famous Japanese performer and musician who is deaf in her left ear.
Kirk Winkler "WildHandz" – Underground deaf rapper.
Vichay Phommachan – Deaf pop musician, artist, dancer, and actor. Former American Idol auditioner in 2007.
Geoffrey Gurrumul Yunupingu – Famous deaf aboriginal singer who lives in Australia.
Kevin Lucas Smire – A well known German DJ known as "Deaf Kev."
Famous Deaf Performers
Joel Barish – Well known Deaf vlogger who breaks barriers and travels the world.
Matthew Morgan – Deaf World Magician (https://www.magicmorgan.com).
Liliana Morgan – Deaf Russian Dancer
Rosa Lee Timm – The Rosa Lee Show is an unique Deaf one-woman multimedia performance featuring the live Deaf performance, music, and video (visual artist).
"JJ" Jones – Deaf mime performer since 1978 (https://www.jjmime.com).
Pinky Aiello – ASL storyteller.
Trix Bruce – Deaf One Woman Show Artist (https://www.trixbruce.com).
Ricky Smith – A mime and beloved instructor.
Bob Hiltermann – Founder of Deaf West Theater (Fountain Theater) in North Hollywood, California.
Peter Cook – Deaf story teller.
Sam Sandler – Deaf illusionist (https://www.samsandler.com).
Bernard Bragg – a Deaf performer, writer, director, poet, and artist. He was a founder of The National Theater of the Deaf and is "regarded by many as the leading professional deaf actor in the country".
Iosif Schneiderman – Deaf mime and professional actor who grew up in Russia and has performed all over the world. He directed the grand opening of DeafWay II in 2001 and co-wrote and starred in the internationally acclaimed award winning play, "Deaf Snow White" produced by Cleveland Sign Stage Theatre.
Kathy Buckley – Famous deaf comedian and motivational speaker.
Daniel Durant – Deaf actor known for his role in Deaf West Theater's Cyrano.
Dr. Simon J. Carmel – Famous Deaf magician.
Douglas Ridloff – CEO and Artistic Director of ASL SLAM, ASL artist, actor, curator, educator and filmmaker from Brooklyn, New York (https://www.aslslam.com).
Maya Ariel – Deaf actress who played Sarah in the first Deaf/hearing production of Guys and Dolls, Jo March in an all Deaf production of Little Women, and was featured in the TV show What Would You Do?
Troy Chapman – First Deaf black actor to win the NYC Best Actor award from the Off Off Broadway Showcase Committee in 2007 for his role as Brutus Jones in Emperoro Jones at the IRT Theater in NYC. He has also starred in Othello, Raisin in the Sun, Damn Yankees, Guys and Dolls, and is a founding member of the ASL Poetry performance group called "Dangerous Signs".
Charles and Charlotte Lamberton – Famous deaf dancing siblings in the 1930s and 1940s, internationally, in Hollywood and on Broadway.
Angela Petrone Stratiy – Internationally known performer and comedian who has a one-woman comedy show. (http://www.deafutopia.com)
Famous Deaf People in the Media
Laura Redden Searing – First deaf female journalist.
Julius Wiggins – Creator of Silent News, the newspaper of the Deaf Community.
Ken Davis – Founder/owner of Deafnewspaper (www.deafnewspaper.com)
Thomas J. Cooney, Sr. – Sports Writer for The Silent News publication, Recipient of Thomas Jefferson Award, Points of Light honoree, Grand Marshall for the Helen Keller Parade, A Kentucky Colonel, and, presently, a Motivational Speaker and Advocate for Deaf Awareness, introducing over 1.5 million individuals to Deaf Culture and Signed Languages.
Barry Strassler – Editor of DeafDigest.net and well known sports writer for the deaf community.
Suzanne Robitaille – Deaf American journalist who has worked at BusinessWeek and The Wall Street Journal. She is the author of The Illustrated Guide to Assistive Technology, founder of abledbody.com, and board member of the National Center on Disability and Journalism.
Mary Luczki – Does the news on https://www.oicmovies.com.
Tom Willard – Current editor of Deafweekly (2004-present) and former editor of NTID's The Observing Eye (1980-81), Deaf Artists of America News (1986-95), unchARTed magazine (1990-92), Silent News (1991-96), Deaf Rochester (1994-96), and Newswaves (1996-2002).
Famous Deaf People In Organizations
Juliette Gordon Low – The founder of the Girl Scouts.
Rocky Stone – Founder of Self Help for Hard of Hearing people (SHHH).
Terry Sproul – Founder of Deaf Kids Kamp.
Sheri Farnihas – Deaf rights and NAD activist.
Opeoluwa Sotonwa – An African-American deaf attorney and literary writer. He currently serves as the Vice President of National Black Deaf Advocates Inc., the nation's civil rights organization of deaf people of color, where he has become a pivotal source of resourcefulness to the NBDA.
Dr. Phillip Zazove – Deaf doctor in Ann Arbor, Michigan and a head of the University of Michigan Medical School's Department of Family Medicine.
Famous Deaf Athletes
Dummy Hoy – The first deaf major-league baseball player.
LeRoy Colombo – Famous deaf lifeguard entered into the Guinness Book of World Records for saving 907 lives.
Gertrude Ederle – The first woman to swim across the English Channel.
David Michalowski – Famous deaf figure skater and the first to compete nationally and internationally.
Shelley Beattie – Professional bodybuilder who once held the record for bench pressing (315 pounds!)
Terence Parkin – A deaf Olympic swimmer who took home a silver medal in the 2000 Olympics and two gold medals in the 2005 Deaflympics.
James "Deaf" Burke – A famous deaf boxer. He was the first boxer who was involved in a fight that resulted in a death.
Curtis Pride – A current deaf professional baseball player.
Kenny Walker – Was a deaf professional football player.
Matt Hamill – Contestant on The Ultimate Fighter, now UFC fighter. Also 3 time NCAA Division III National Wrestling Champion.
Kevin M. Hall – A professional golfer who graduated from Ohio State University and plays in the NGA Tour.
Donna Sue Barker – A Deaf woman who went to Texas School for the Deaf (TSD) and won many medals in track. She represented the U.S.A. in the Deaflympics and traveled to Europe.
Marcus Titus – US National Swim Team.
Jeffrey "Jeff" Float – A former American swimmer who became the only legally deaf athlete from the USA to win an Olympic gold medal.
Tamika Catchings – A professional basketball player in the WNBA. She played for the University of Tennessee.
Louis Long (aka The Silent Warrior) – First Deaf American professional wrestler in Japan and the Philippines and founder of the Deaf Wrestling Alliance.
Alan Kilby – The first deaf British professional wrestler who won champion. He is a retired wrestler now.
Sean Midnight – Deaf British professional wrestler.
Yakami Aoi – Deaf Japanese pro female wrestler.
Lance Allred – American basketball player, first deaf person to play in the NBA.
Tracey Kilby – A deaf UK pro wrestling valent with Sean Midnight.
Alan Kilby – World of Sport professional wrestler in the United Kingdom.
Carlos Rexach (aka The Silencer) – Deaf pro wrestler.
Jonathan Ramser – First deaf pro-wrestler in OVW (Ohio Valley Wrestling) debuted on March 2nd 2013.
Matthew Eby – First deaf pro-soccer player in the U.S. Played for Real Maryland FC Professional Soccer in the United Soccer League(USL).
Jim Kyte – The first (and to date, the only) deaf National Hockey League (NHL) player.
Munir Muwwakkil – #99 played for Western Kentucky University and was the first deaf pro arena football player.
Bonnie Sloan – First deaf football player in the National Football League (NFL).
Derrick Coleman – First deaf offensive player in the NFL and plays for the Seattle Seahawks.
Ryan Ketchner – Deaf left-handed pitcher who was drafted by the Seattle Mariners.
Paul Wood – First professional deaf cyclist. Competed in Deaf Olympics seven times and won a total of 11 medals – 5 gold, 4 silver, and 2 bronze.
Adham Talaat – Star football defensive end for Gallaudet University.
Silent Brian Mackney – Canadian professional wrestler and the first deaf Canadian wrestler in the World Wrestling Federation (WWF).
Steve Downie – Professional NHL hockey player for the Pittsburgh Penguins who is deaf in one ear due to otosclerosis as a child.
Dummy Taylor – Luther Haden "Dummy" Taylor was an American deaf MLB pitcher for the New York Giants and Cleveland Bronchos from 1900-1908.
Famous Deaf Artists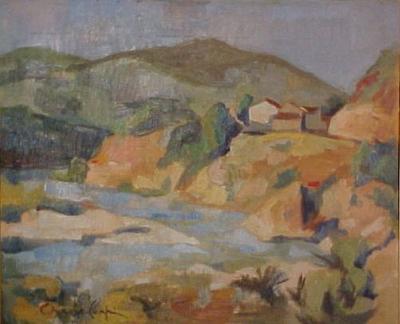 Chuck Baird – A well-known deaf artist.
Betty G. Miller – A deaf artist whose work truly edifies the struggles and issues in the deaf community.
Louis Frisino – A well-known deaf painter who painted pictures of realistic-looking animals.
Douglas Tilden – A well-known deaf sculptor.
Granville Redmond – A landscape artist whose artwork is worth 6-figures.
Gerald Becker Steffen – Deaf artist at Pike Place Market in Seattle.
Samuel Hudson – An African-American Deaf artist.
Douglas Tilden – World famous deaf sculptor.
Nancy Rourke – Deaf Artist, Expressionist Paintings (https://www.nancyrourke.com).
Nellie Knopf – Deaf painter (1875-1962)
Ann Silver – Well known deaf graphic designer, advocate for deaf culture art, and one of the founders De'VIA (Deaf View Image Art).
Braam Jordaan – Well known deaf animator.
Joseph Henry Sharp – Famous deaf artist and one of the founding members of the Taos Society of Artists, a group that produced some of the most significant artwork in American history.
Tommy Motswai – Well known deaf artist living in South Africa who was chosen as the Standard Bank Artist of the year during the Grahamstown Arts Festival and has had national as well as international exhibitions.
Carlisle Robinson – An up and coming comic author and artist.
Regina Olson Hughes – Well known deaf scientific botanical artist.
Matt and Kay Daigle – Creators of the famous "That Deaf Guy" comic strip.
Oreste Carpi – an Italian deaf painter, engraver and ceramist.
Famous Deaf Writers
Stevie Platt – The deaf author of the books Go to the Hill and The Last Servant.
Connie Briscoe – A modern deaf author who became deaf in her 20s.
Jamie Berke – The former About.com Deafness Guide
Dianrez – Well-Known Deaf Blogger
Sondra McCoy – Author of Hard Road, Easy Riding: Deaf Biker Lady.
Tomora Michelle Pace – Deaf author and teacher.
Henry Kisor – Author of What's that Pig Outdoors? and other novels based on the Upper Peninsula of Michigan locales.
John Lee Clark – Author of Suddenly Slow: Poems and editor of Deaf American Poetry: An Anthology.
Q. Kelly – Deaf lesbian romance and fiction award-winning writer.
Kathleen Brockway – Deaf author of Baltimore's Deaf Heritage and Detroit's Deaf Heritage books, who resides in Maryland and gives presentations on preserving Deaf Culture & History. She also chairs the NAD Deaf Culture & History Section from 2014 to present.
Teresa de Cartagena – A deaf nun in the 15th century who was Spain's first feminist writer. Her ideas about gender, God, and disability were completely revolutionary for her time.
Famous Deaf-Blind People
Julia Brace – A deaf-blind girl who was born before both Laura Bridgman and Helen Keller. She was successfully educated, but lost the credit as the first to Helen Keller.
Helen Keller – The most well-known deaf-blind girl who successfully learned language.
Laura Bridgman – The deaf-blind girl who was successfully educated before Helen Keller.
Marie Heurtin – Known as the "French Helen Keller."
Other Famous Deaf People
Heather Whitestone – The first deaf woman to be crowned Miss America.
Nellie Zabel Willhite – The first deaf female pilot to get her license.
Rodger Young – Deaf man who faked his Army hearing test in WW2. Won a Posthumous Medal of Honor in the Soloman Islands.
Frank Hochman – First deaf American physician who graduated from medical school in 1976.
Howard Hughes – An aviator, film producer, engineer, film director, industrialist, and philanthropist.
Robert Weitbrecht – Invented the TTY along with James Marsters who was also deaf.
Ashley Fiolek – Deaf motocross racer that is sponsored by Redbull.
Cal Rodgers – The very first deaf pilot in the USA in 1911.
Kitty O'Neil – A former stuntwoman and racer.
Sue Thomas – Undercover specialist for FBI, the inspiration for the TV series Sue Thomas: FBEye, international speaker, author, founder of Kennels of Levi: EPEC Service Dogs for physically challenged, founder of WaterBrooks a Christian spiritual renewal center, and founder of Sue Thomas Ministries outreach to homeless.
Thomas Alva Edison – An American scientist, inventor, and businessman.
George William Veditz – Was a former president of the National Association of the Deaf of the United States and was one of the first to film American Sign Language.
Allison Lam – Deaf firefighter.
Gregory Hlibok – First person with a disability to be appointed by the FCC to the head of its Disability Rights Office.
Rhulin Thomas – First deaf aviator to fly coast to coast.
John Gotti – Boss of the most powerful organized crime family in the USA. He was deaf in one ear.
Erastus Deaf Smith – A revered Texas scout, guide, and spy and is famous for the important role he played in the Texas Revolution.
Kunle Adegboye – CEO at Morayo Communications, Morayocare & Morayowireless and a role model to many young Nigerians with his line: "Disability is in the mind".
Claudia Gordon – First deaf female African American lawyer. She was also the first deaf student to graduate from the American University Washington DC College of Law.
Tanya Wyatt-Dennis – First black deaf hospice medical social worker, the first to graduate from Wayne State University Social Worker Program in 1997 with a Master of Social Work degree, and the first black deaf school social worder to work for Detroit Public School.
Ginger Jee – Well-respected deaf Disability Rights Advocate in New York tri-state area. Artist and former actress on the television show "Criminal Intents". An expert in all disability rights laws and fights for all deaf access across America.
Roberto E. Wirth – A deaf world famous hotelier. Voted into the Hall of Fame of hoteliers as the Best Hotelier of the World in 2005.
Dr. Carolyn Stern – Deaf doctor in Rochester.
Rie Saito – A famous Japanese hostess who used hitsuden (written communication) to interact with her clients. She wrote the book "The Hostess With a Pen."
Bill Clinton – Former president of the United States has a hearing loss due to age and the time he spent playing the saxophone in his youth.
Becky Brown-Center – First Deaf female pilot in Dayton, Ohio and in the state of Ohio to get a pilot's license in 1986. Possibly the third deaf female pilot in America and former DPA member.
Jenelle Joanne Ramsami – Deaf FHM model from South Africa.
Keith Nolan – A Deaf man well known for fighting to join the US Military.
Rabbi Chaim Tzvi Kakon – A well-known and respected deaf Rabbi of the first deaf Jewish high school of its kind in the world, Yeshivas Nefesh Dovid (YND), founded in 2001.
Dr. Hart Bressler, MD – Canada's first deaf medical physician who is an assistant professor at the University of Toronto, Faculty of Medicine as well as a full-time family physician and maintains a clinic that specializes in chronic pain management. He studied at Yeshiva University of Los Angeles and was instrumental in working with Rabbi Kakon to establish the Yeshiva in Toronto.
Ricky Taylor – Well known Deaf controversial vlogger on YouTube (https://www.youtube.com/user/ridor9th).
Scott & Annette Kerr – Famous deaf couple on YouTube who received the 100,000 subscribers silver button award by YouTube on September 11, 2014. (https://www.youtube.com/user/PrankandSpank).
Jenelle Joanne Ramsami – Finalist in the Miss Deaf South Africa pageant 2009/2010, awarded the "Fresh Look" title at Miss India South Africa KZN 2010 contest, recently made the Top 5 and 'Miss Photogenic' for the Xtreme Models Search competition in February 2011 and FHM top 20 model, and the only partially deaf woman to compete.
Casar Jacobson – A disability and gender equality rights activist and a UN Women Youth Champion. Casar is Former Miss Canada, Miss Global Peace and Deaf International Entrepreneur. She was the winner of Miss Canada 2013.
Sir John Worchup Cornforth – Deaf British chemist who was the corecipient of the 1975 Nobel Prize for Chemistry for his research on the stereochemistry of enzyme-catalyzed reactions.
Timothy Owens – One of the founders of the Deaf Youth Sports Festival (www.mdoyouth.org and former president of ASLTA before he passed away November 2015. Owens was a professor at University of Louisville for many years and received the George Veditz award from ASLTA as well as awards from WGD, Gallaudet, MDO, RID, and more.
Louis J. Schwarz – Known as the "Father" of Finance in the U.S. Deaf community. He is a Gallaudet alumni, Class of 1968, who is well-known as the first Deaf CFP (certified financial planner) and for establishing the first financial services company serving the U.S. Deaf community in 1983, Schwarz Financial Services LLC, in Maryland.
Casar Jacobson – A Deaf Canadian/Norwegian Actress, Activist, United Nations Champion, Scientist M.Sc HCA (Neuroscience medical school student), Miss Canada, bilaterally profound Deaf with unilateral cochlear implantation.
Estelle Caldwell and Rev. Robert Capers Fletcher – Deaf parents of actress Louise Fletcher who won an Academy Award for her role as Nurse Ratched in One Flew Over the Cuckoo's Nest.
Dr. Candace McCullough – First Deaf psychologist to set up a counseling business. She makes counseling services accessible to Deaf people all over the states.
Did We Miss Someone? Acknowledge Them!
This page is meant to acknowledge all the wonderful achievements of famous deaf people. There are so many deaf people who deserve to be on this list!
Do you know of a famous deaf person who is not on this list? Do you want to add a longer biography for a person already listed? Has a deaf person has a personal impact on your life? Share your appreciation in the comments below!